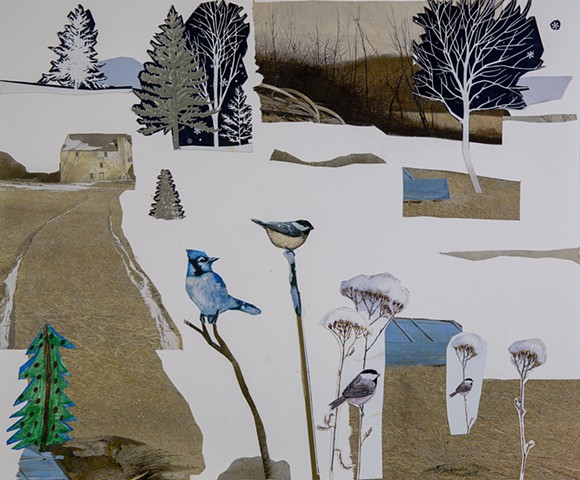 Deconstructed Winter Landscape
collage: greeting cards, photographs, art reproductions
14 inches x 17 inches
2018
This was an experimental drawing in which I decided to make the entire drawing a collage. The trees, the birds, the foreground grasses are all cut out from holiday greeting cards, and the remaining large scenes are cut out from a photograph in a magazine of an Andrew Wyeth painting. I love the winter subdued colors. This is a deconstructed winter landscape. The drawing is signed and dated.
Shipping within the US is free. International shipping is extra and will be paid for by the buyer at a price arranged by the artist and the buyer.
Artist to retain all copyrights.
collage drawing, winter landscape, deconstructed landscape, drawing of snow birds grasses in winter, drawing using collage, drawing using greeting cards, abstract drawing of winter, cold drawing, winter drawing, blue, brown, white drawing, drawing with blue jay and birds, for sale by artist.