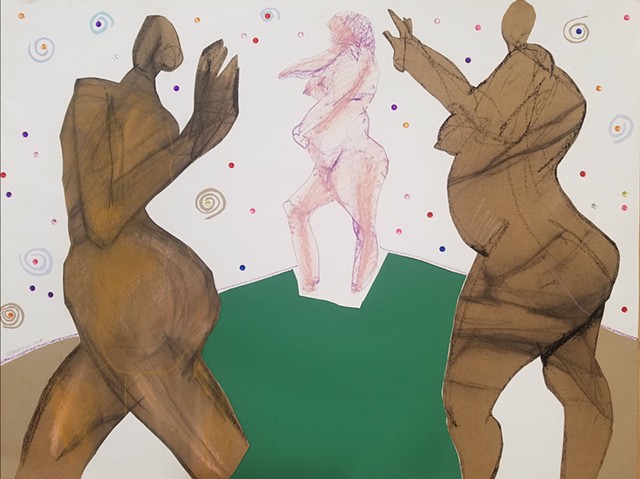 Figure Drawing, No. 183
mixed media pastel paper rindstones oil pastel
31 3/4 inches x 21 3/4 inches
2018
This is a large mixed medial collage drawing. The figures are cut-outs of previous figure drawings I had done with the live model. The small dots in the background are rhinestones surrounded by paper cut-out spirals. The green and tan shapes at the bottom are collaged papers. This drawing is very light and playful. It's just fun.
The drawing is unframed and will need to be framed and matted to protect it.
The price of this drawing includes all domestic within the US shipping and handling charges. International shipping is extra and paid for by the buyer at a price arranged between the artist and the buyer. The shipping of this large drawing will be expensive and that is why the price is higher.
Artist to retain all copyrights.
pastel drawing, pastel nude drawing, pastel female nude drawing, pastel figure drawing, pastel life drawing, pastel figurative drawing, figure drawing, impressionist drawing, female nude, female nude drawing, life drawing, expressive drawing, pastel on paper, emerging artist, illustration, modern figure drawing, collage drawing, mixed media drawing