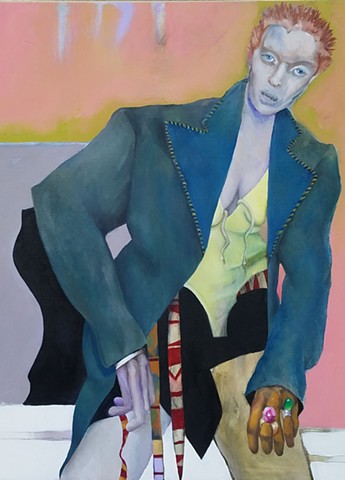 Trump Supporter, No. 1 (This is what they look like on the inside)
Oil on Canvas
36 inches x 48 inches
2018
This painting depicts how I see people who support Trump. No matter how nice they may seem on the outside, this is who they are on the inside. Freaks, monsters, malevolent, grotesque. I like the monstrous hands with the garish rings, and the "ridiculous" coat. I was inspired by the "ridiculous coat" in the movie My Cousin Vinny.
The painting is unframed.
The price of this painting includes all domestic within the US shipping and handling charges. This painting will be crated by professional art craters to protect the piece, and shipped the crating company. International shipping is extra and paid for by the buyer at a price arranged between the artist and the buyer.
Artist to retain all copywrites.


political painting, oil painting, Trump, figurative painting, contemporary painting, cartoon painting, painting of androgynous woman, political parody painting